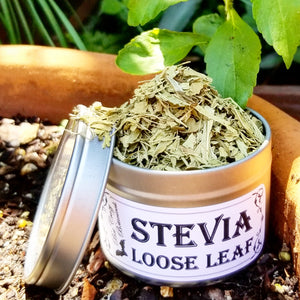 Bat Crazy Botanicals
Stevia Loose Leaf
Back by popular demand! SWEET!
Looking for a way to sweeten your life sugar-free? Natural leaf Stevia is a wonderful alternative to processed sweeteners which contain harmful chemicals from processing. So easy to use, just add Stevia leaf wherever you'd like a little sweetness!
For coffee and tea, add to the grounds or leaf and prepare as usual. Coffee comes right out the machine already sweet! For your favorite dishes that need a little sugar (like spaghetti sauce), use just like any other spice. Sprinkle it in with your basil, and voilà!!
This natural leaf Stevia is organic and sustainably sourced. How sweet!
---
More from this collection